Emergency
and
primary
luminaires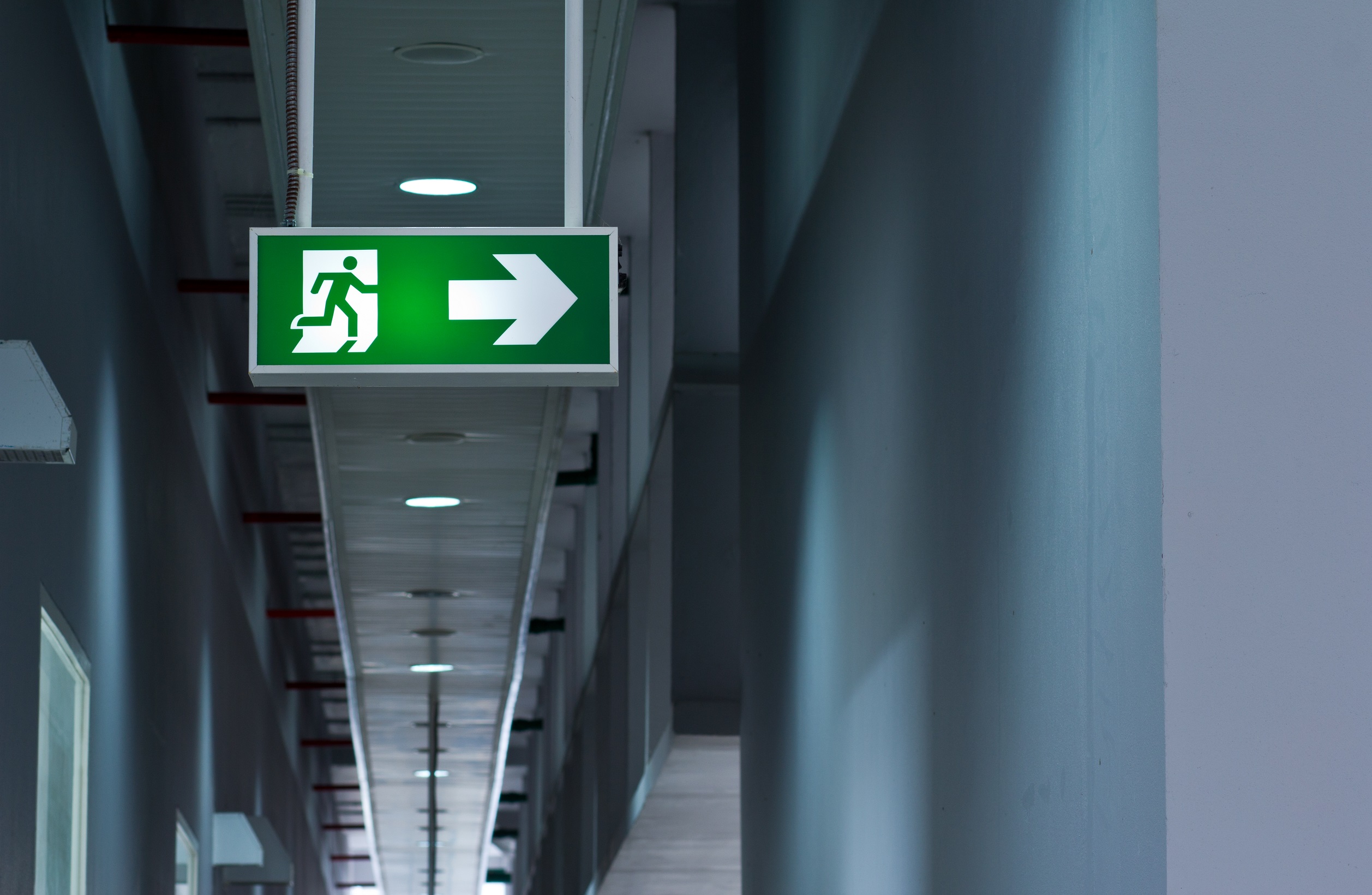 EMERGENCY LIGHTING
All luminaires for emergency lighting systems are CNBOP (Scientific and Research Centre for Fire Protection) approved. The luminaires are designed for use with central battery systems or individual power supplies.
The GuideLed luminaires family comprises emergency exit luminaires, featuring excellent visibility and 20 or 30 m recognition range. Available in a one sided or two-sided versions. Six different mounting methods ensure an optimal solution for every interior space. Advanced Lightguide technology transforms high, spot luminosity from the LED sources into a bright and uniformly illuminated surface. Despite the compact size and a seemingly small 5W rating, GuideLed luminaires deliver lighting performance comparable to fluorescent bulbs rated at many times that. The system optics, designed for emergency lighting, direct the light along an escape route or symmetrically over an open space.
Style emergency lighting luminaires represent ideal functionality. Due to its modular construction, the luminaire provides numerous use opportunities. Use of Led light sources, significantly reduces costs associated with frequent light source replacements. The design lifespan of three sided LEDs is more than 50,000 hours, both in high and low ambient temperatures, which in practice means that they can operate for many years without the need to change replace light sources. This results in significant maintenance costs reductions and thus smaller operating costs.
The CrystalWay family - with an illuminated panel - are luminaires designed with interior aesthetics in mind. The CrystalWay luminaires series, due to the reduction of luminaire elements to the bare minimum, easy to use connection box as well as numerous mounting options is an ideal choice for retail and office premises, where aesthetics and interior design play a prominent role. Effective luminaire solutions combined with transparent materials mean CrystalWay can be used where the architectural surroundings require a certain standard.
The Micropoint series escape route lighting, feature high class luminaires, suitable for mounting at various heights, flush mounted or surface mounted. The construction facilitates easy mounting at heights of up to 10 meters.
The Atlantic LED emergency luminaires with high protection class (IP65) are designed for indoor and outdoor use. According to IFS and HACCP suitable for use in food processing industry. Robust construction made from die-cast aluminium and high impact resistant cover made of IK 10 polycarbonate.
The Alfalux LED luminaires series is designed for mounting at heights and for large areas. Can be mounted at up to 20 meters high.
A significant advantage of LED light sources is improved used safety, as LED diodes do not emit UV and IR radiation, do not contain hazardous gasses or heavy metal compounds and as such are environmentally friendly.
EX LUMINAIRES
We supply a wide range of LED and fluorescent Ex luminaires for zones 1, 2, 21 and 22 together with installation fixtures, both for primary as well as emergency lighting. The luminaires are ATEX, NEC, CEC, GOST approved.
Explosion-protected EXIT series emergency lighting luminaires feature high performance LED diodes for maintenance free operation without the need to replace light sources throughout the lifetime of the luminaire. The dKLK luminaire allows both the operation of energy-saving compact fluorescent lamps as well as reliable, economical LED light sources.
INDUSTRIAL LIGHTING PRODUCTS AND SOLUTIONS
EATON is one of the leading highly specialised industrial lighting manufacturers. The wide range of products facilitates designing the right luminaires in terms of efficiency ensuring maximum energy savings and a quick return on investment. WaweStreamTM, a patented technology, is an alternative for traditional fluorescent lights in retail and industrial applications. WaveStreanTM is a patented edge lighting technology, which accurately directs LED light in a manner which was not possible thus far - converting LED spot lighting into a high output, durable and aesthetic electro-luminescent LED light panel.
EATON Cooper Lighting delivers state-of-the-art lighting solutions within the scope of LED lights. Its designs, on a scale unique in the industry, improve energy efficiency, lighting safety and quality. These solutions comprise functional, decorative, mood as well as industrial lighting. It also delivers intelligent systems dedicated to an integrated and comprehensive light systems control.
All luminaires are compatible with STAR technology CG-S monitoring and control systems. CGVision visualisation software facilitates highly reliable monitoring and control of even large scale emergency light systems. CGVision automation means it is possible to control even up to 480 power source units, powering more than a million light sources on one screen in the control room. The software is particularly useful for large venues, such as airports, universities, museums, sports stadiums, or industrial halls, where it is necessary to apply central control over all devices. Apart from control functions, CGVision can also be used to change system configuration at any time.